The Future of Insurance Management Software & Systems: A Word From Our President Bruce Dickhoff
Insurance management software is not a field most people pursue intentionally, and I know I certainly didn't. I started as a computer programmer looking for a job with a small company and fell straight into the insurance industry. Now, however, I take great pride in representing a company that does so much to help insurance agents and make their lives easier by developing state-of-the-art agency management software.
Insurance management software is still a very young industry. That said, we've come a long way from the days of endless filing cabinets and rotary phones, and the future of insurance software is brighter than ever before.
Where the Insurance Industry Used To Be
I started in the insurance industry in 1986. Back then, insurance tech was still in its infancy. I started out with a mainframe computer because there weren't any PCs at the time — most agencies in the mid-'80s didn't have access to any tech at all. The only agencies using rudimentary AMS software were bank-owned because the banks were the only ones who could afford the computers to run the software in the first place.
There's a strong history of paper loyalty in the insurance industry. Small agencies that started in small towns were reliant on filing cabinets and sharp minds to get things done — and that was fine at the time.
The issue over the years, however, was that client lists would grow, agencies would expand, and customers would get lost in the shuffle. Agents were then spending so much time on paperwork and upkeep that any personal relationship with their clients was a treat rather than a given part of the service.
When NASA and the Eclipse software first launched in 1982, word of mouth spread quickly, which makes me think the industry always knew where it wanted to be. It just didn't have the tools to get there quite yet. Luckily, those tides are changing.
The Next Era of Insurance Software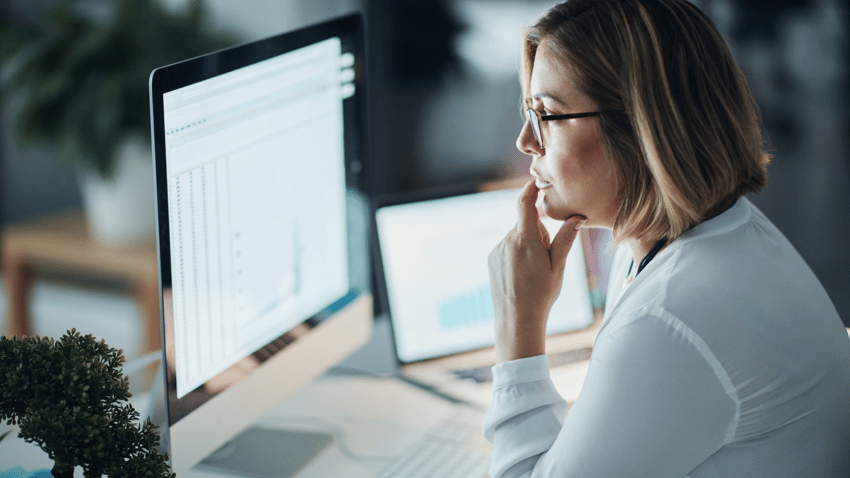 It seems almost ridiculous to say in 2022, but the insurance industry is finally making a complete shift from paper record-keeping to digital data files and web-based AMS. Everything is moving towards being interconnected. There's a huge emphasis on working with independent agents and their various company systems in addition to being able to serve all their needs across providers.
We're also seeing a welcome shift towards better customer service. NASA has always put customer service above all else for our clients, but the insurance industry as a whole tends to be very data and numbers-focused. Of course, it needs to be on some level since accuracy is essential for any agent, but now the industry is starting to combine great customer service with fast-paced reporting. Web-based AMS will be a game-changer for customer service going forward.
It's also worth noting that buyouts between insurance agencies are on the rise too, so seamless software is going to become crucial for keeping customer profiles and financial histories together during data transfers.
Next Up For NASA and Eclipse
We were very lucky compared to most when everything shut down in 2020. Since our system is primarily tech-based, we were able to adapt quickly to the sudden virtual shift. We also helped multiple agencies move online and provided remote capabilities so they could go about their business as usual too. After all, the last industry you want to disappear during a crisis is insurance.
The industry shake-up in 2020 also gave us an opportunity to look at where we want to go next and the upgrades and innovations we want to focus on. One of the most important was upgrading our phone system to be web-based so our team could access the phone lines from home.
Right now we're working on a complete rewrite of our software to create a full web version that agents can access anywhere with an internet connection. The rewrite will also bring a new look and feel along with additional integrations and packages. Tech moves fast, and we are happy to be leading the pack.
The majority of agents we deal with are independent agents. They work with a large number of companies and then offer the best ones to their clients. Their biggest asset is their personalized service, but they can only offer that if they're backed by the necessary automation tools. It's our job to make sure they have uninterrupted access to our software and that Eclipse always runs smoothly. Our goal is to always match and support their level of service.
Words For Early-Career Agents
Always remember that sales are only one side of insurance. The industry is so broad — it's always changing, always interesting. It's important to find partners who can help you prepare for the unseen aspects of the industry and offer different perspectives.
I've been at this for a long time. The most successful agents are always the ones eager to learn about the industry and about different kinds of people. No client is the same, so the more time agents can spend interacting with their customers and building relationships, the better.
That's a key part of NASA's purpose: we give agents the opportunity to step away from the paperwork and connect with people. That, in itself, is the rewarding part of this work, and I feel proud in knowing that we're here to support human connection.
To see how NASA and Eclipse can revolutionize your agency, request a demo today.
Topics: Insurance Industry