Starting an Insurance Agency: What's the Right Technology?
There are numerous factors to consider and critical choices to make when kicking off a new insurance agency. Not only are you investing in space (physical or digital), you're also building a team, reaching out to clients, handling finances, and interfacing with customers. On top of that, you need to keep everything organized and on schedule — all while trying to set up a lasting business plan.

That's a lot of responsibility, and with that comes opportunities for things to go wrong. But with the right resources, it's possible to create the business you've dreamed of without losing money or sanity.
Below, we'll outline what it takes to start a small insurance agency off on the right foot. Then we'll give you the inside scoop on what an agency management system is, why it's critical to your growth, and what software to invest in for long-term success.
What Does it Take to Start an Insurance Agency?
Like any other small business, there are fundamental pieces that must be in place in order to set up a new insurance agency. Some are straightforward: all businesses need a relevant license or licenses in addition to a solid amount of start-up capital.
But some elements are more specific to insurance agencies. All businesses need sales knowledge and some level of business software to get off the ground, but it's the quality and thought put into these factors that make the difference between whether you'll succeed or struggle.
Before starting a new insurance agency, we highly recommend you familiarize yourself with these software business basics:
Most urgent of all? You'll need an insurance agency management system. Picking the right one is not only a financial consideration: it's critical to your productivity and sales success.
But why are they so important? Let's take a look at the pivotal role insurance software plays behind the scenes of your company.
What is an AMS?
AMS stands for Agency Management System. An AMS is a software designed to help insurance agencies manage the intricacies of their business. An AMS centralizes and streamlines customer and financial information so that your company can more easily keep track of its records.
A strong AMS also provides customer service features that allow you to build relationships with existing clients and easily reach out to prospective ones.
Customer relationship management software (CRM) is a huge deal in the sales industry. The multi-billion-dollar market knows that management software is crucial to staying ahead of the competition — and so should you. An AMS is like a CRM for insurance agencies, and the right AMS can start you off at a huge advantage.
Let's take a look at why AMS software is essential for a small business.
Why is Insurance Software Necessary?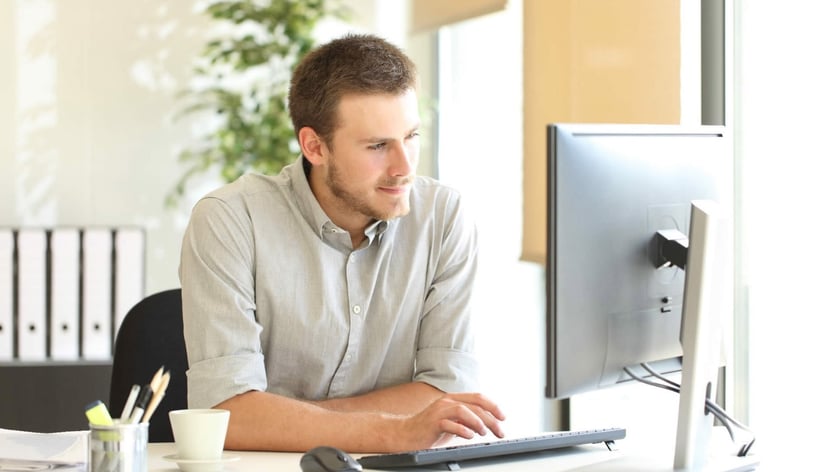 With the astronomical growth in the world of digital finance and the development of digital insurance agencies, making sure your company is up to date on technology is essential to staying ahead of the competition. Even if you're just starting out with a few small clients, having an insurance AMS ensures your business is organized and poised for growth.
Though you may be able to manage without software, the research speaks for itself. Going without software or picking the wrong one can lead to:
Inefficient use of time
Missing out on potential clients
Disorganization
Issues in scalability
Deteriorating client retention
You're starting your own business, so you clearly know a thing or two about sending emails and crunching numbers. But as a business owner, that's no longer the best use of your time. AMS software can't do all of your work for you, but it can significantly reduce tedious administrative tasks so that you can focus on higher-leverage work.
The good news is you don't have to spend your entire budget on software. The best AMS can increase efficiency, improve customer service, and scale with your agency without breaking the bank.
What's the Best AMS For My Agency?
The short answer? It depends.
Not all agencies work in the same market or with the same number of clients and employees. That said, setting up a new agency is already difficult and demanding enough. The last thing you need when establishing your insurance business is to invest in software that is confusing, slow, or overly expensive.
That's why we created Eclipse.
Eclipse is an insurance AMS that streamlines your pipeline management, organizes and reports your client and financial data, and increases your ability to retain clients. Eclipse also comes with 14 comparative rating integration partners, so you can rest assured that you've made the right product choice.
Most importantly, Eclipse is affordable. The upfront cost is less than nearly all larger competitors, and we offer easy data conversion services that won't break the bank. So if you started with an AMS or client system that you don't like, we can transfer your client information into Eclipse for a base fee of $750. That saves you time, money, and frustration.
The Future of Insurance is NASA
Technology for insurance companies is booming right now with developments in AI software and social media integration. That's fantastic for large companies, but what about the smaller, local insurance agencies who need to stay competitive without maxing out their budget?
That's where NASA comes in. At NASA, we believe in eliminating the roadblocks that stand between independent insurance agencies and success. That's why we developed the Eclipse Agency Management System to bring high-quality software and customer service to small agencies at a price that allows them to thrive.
Request a demo of Eclipse and see what NASA's insurance agency management system can do for your small business.